From March 18, 2017 to October 7, 2018, come discover the new fruit and vegetable exhibition for children at Cité Nature in Arras, northern France.
Located in a former Arras Urban Community factory rehabilitated by famed architect Jean Nouvel, Cité Nature is the biggest centre of scientific culture dedicated to nature, food and health north of Paris.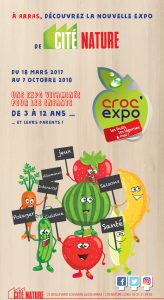 Croc'Expo is an original and unique exhibition in France on fruits and vegetables designed for children aged 3 to 12 years. It is an interactive show where children can, for instance, vote for their favourite fruits, and those accompanying them can jot down tips to encourage children to eat more fruits and vegetables.
Because all too often, fruits and vegetables are lacking in children's diets and eating these foods helps to prevent child obesity and other diseases, and also because Les Hauts de France is the largest vegetable growing region (95% of chicory), this exhibition answers many of the questions children ask themselves, as do the adults accompanying them.
To make this happen, Cité Nature brought together health professionals, food experts and private partners.
The goal is to ensure that once they have visited the exhibition, everybody, young and old alike, will want to grow their own fruits and vegetables and taste new ones. Not only because it's good for their health, but above all for the sheer pleasure of it!
Croc'Expo is a recreational and educational exhibition mounted in a colourful universe with interactive, hands-on play, games, cards and puzzles adapted to the children's age groups so they can learn while having fun. A do-good feel-good show!
This project was supported by the Louis Bonduelle Foundation as part of its 2016 call for proposals.