The market garden model of Bec-Hellouin farm, in the Eure region in France, was inspired by the principles of permaculture and larger-scale organic micro-market gardening projects. From 2011 to 2015, researchers studied the farm's activities in order to evaluate the economic performance of such a system.
The owners of Bec-Hellouin Farm were inspired by permaculture, developing a continuous production of fruit and vegetables on a small parcel of arable land, which is essentially worked by hand, focussing on short supply chains. The Sylva Institute and the SAD-APT (INRA-AgroParisTech) research unit studied the farm's activities in more detail to determine whether this type of system provides an adequate income to a farmer.
The study focused on a 1,000 m2 parcel of land, taking due account of the real production and sales conditions of a market gardening company. The market gardeners systematically recorded the nature of their interventions as well as the time and resources needed (material, equipment, farm inputs and so on) for each of these interventions. They also quantified their harvests. Following this study, this tiny farm in Normandy became a model for the rest of the world.
Permaculture can be profitable!
The farm's revenue was estimated using a theoretical model, based on the collected data. For the first two years, the farm's revenue amounted to €32,788 and €57,284 respectively. In the first year, the monthly income of a single market gardener, working full time, fluctuated between €898 and €1,132 as a result. During the second year, this increased slightly to between €1,337 and €1,571 a month.
The market gardeners who participated in this study considered the latter three figures to be an acceptable income.
The significant increase in revenue between the first and the second year is due to the intensification or increase in production during the study and is related to a combination of factors. They are the outcome of observation and the experience that the market gardeners acquired, as they went about their daily work.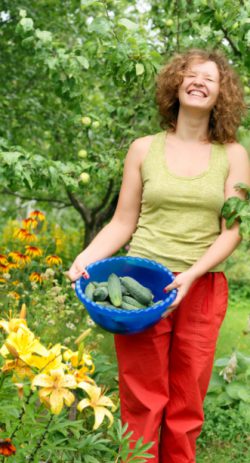 A source of inspiration for permaculture
The results of the study carried out at Bec-Hellouin Farm suggest that it is possible to develop intensive production on a small parcel of land with techniques that are not very mechanised and generate sufficient profit, so a farmer can earn a decent income.
The authors of the study, however, also cautioned against using these results as a reference. Instead, market gardeners who are interested in switching to permaculture can use them as a source of inspiration.