For the 11th consecutive year, the Louis Bonduelle Foundation invites you to its annual Conference, on 12 June, in partnership with the UNESCO Chair in World Food Systems. Learn more about this Conference on the subject of urban agriculture, with Joëlle Zask and Antoine Jacobsohn, who are two of the prestigious speakers who will give a talk at this conference.
Joelle Zask is a philosopher, specialising in political philosophy and pragmatism, and is a senior lecturer at the University of Provence. She has translated the works of John Dewey, more specifically The Public and its Problems into French. This is a key work for understanding the political issues we are currently facing in times of uncertainty. Like Dewey, she is interested in the cultural conditions of our political representation in liberal democracies. Her most recent book, "Quand la place devient publique", examines the role of squares in citizenship and democracy.
Her ideas on urban agriculture
«Agriculture has always raised very important questions about the survival and sustenance of liberal democracies. It has also traditionally been a cause of social inequality. The rural populations were historically marginalised in politics, even though they accounted for 80 to 90% of the population under the Ancien Régime. The disqualification of the peasant class is therefore clearly a concern, if you want to build a political system.»
«I don't believe we are witnessing a return to the land and to urban agriculture. I think it is just a matter of increased visibility, which is supported by a resurgence in Europe, Russia, Latin America and Asia. This is also a consequence of the economic crisis of recent years, which have contributed to a surge in community gardens, to promote an economic resurgence and food security. A phenomenon that has been often observed in contemporary history.»
«Urban agriculture also points to a meaningful agriculture, which feeds a policy of democratic sociability rather than fostering it.»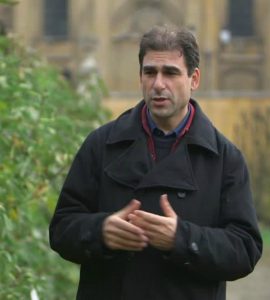 After studying agronomy, Antoine Jacobsohn turned to history because he found it interesting. Because he took a keen interest in food and "tasting", the art of eating well and also in books. He is currently responsible for the Potager du Roi, a historic site of the National School of Landscape Architecture in Versailles. The garden was developed from 1678 to 1683 by Jean-Baptiste La Quintinie, at the request of Louis XIV. Today it is a historical site and a beautiful garden. The gardeners continue to perpetuate the art of pruning, growing a wide range of old and new fruit and vegetable varieties in a French garden, using modern and sustainable methods.
His relationship with earth and the Potager du Roi
«Strong relationships exist between how we garden and how we care for our environment. This intimate relationship between how we care for a small part of our earth and its influence on our planet explains why gardens are so symbolic and represents the challenges we face today.»
«The Potager du Roi is a heritage site but it is also a place where you think of the present and of what will come, much like Louis XIV did. At the time, he wanted to impress the entire world and demonstrate how magnificent France was by creating a place where you could walk and where things were produced. By combining the business of agriculture with the pleasure of nature in other words. It was a place for consumption and for experiments, and we continue to apply this principle even now. Our main purpose is to understand how the past is relevant to the present and how can we celebrate it. Our challenge therefore consists of establishing a link between the garden and contemporary issues.»