Queen of protein!
Lentils are one of the pulses with the most beneficial qualities. Rich in protein, they make a good substitute for other protein sources, such as meat. They are also the easiest to digest of the pulses, and they cause less flatulence.
Lentils are also:
a source of vitamin B6 (for energy, nervous system health, protein synthesis, red blood cell formation, and fatigue reduction)
a source of phosphorus (for energy, bone and teeth health, and cellular membrane health)
a source of fiber (for bowel movement regulation, satiety)
When is the right
time to eat them?
All year.
Lentils are available year-round!
Vegetable patch or
urban balcony?
Lentils are annuals that grow well in full sun, in drained, pH-neutral, sandy soils rich in lime. A temperate climate is ideal for growing lentils so they develop in good conditions with proper grains.
To learn everything you need to know about growing lentils, read the page on growing advice.
Choosing and
storing lentils
Choose your lentils well:
They should be smooth and intact.
The color should be bright and the shape uniform.
They should not have sprouted!
Properly store your lentils:
They last for one year at most, after which they become harder and more difficult to digest.
Store them in a sealed container, in a cool, dry place.
How to prepare lentils
Generally there is no need to soak them, except with the harder blond lentils (two hours in cold water are enough).
Cooking times:
It differs from one variety to another. Consult the information on the lentil package.
20 to 45 min: in boiling water, salting at the end of that time to make sure the lentils do not harden.
10 min: in the pressure cooker.
Red lentils cook much faster than the others (in 5 to 10 min) because they are skinless.
Lentils go well with…
Lentils pair well with smoky flavors and charcuterie. After trying salt pork or sausage with lentils, move on to smoked salmon with lentils en papillote. Lentil salad with gizzards confit is a quick-to-prepare classic that is not to be missed.
Lentils can also be made into cold salads with a well-seasoned vinaigrette and tomatoes. They go well with hot peppers, mustard, rice, carrots, corn, and more.
Lentil soup is a nourishing winter dish.
Lentils (and other pulses) are the main ingredient in dal, a very savory Indian dish.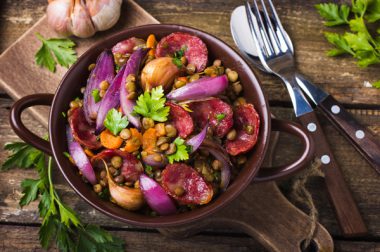 Young children
While lentils are easier to digest than other pulses, they still can cause digestive discomfort in babies or be difficult to chew, even presenting a risk of pulmonary aspiration during swallowing. It is therefore better not to feed them to children before the age of 15 months. Introduce older children to lentil soup, an easy-to-make recipe.
And everyone else
To make sure you fully benefit from pulse proteins, eat a grain product or nuts and seeds along with lentils. Lentils are rich in lysine (an amino acid) but have very little methionine (another essential amino acid). As for grain products (wheat, rice, etc.), nuts, and seeds, they contain essential amino acids that pulses lack or contain only in small quantities. So the two together are a winning combination!
People with irritable bowels can eat lentils in puree or soup form, as children do. The skinless red lentils are the easiest to digest—and are also great as a puree!
Did you know? Canned and jarred lentils are cooked to perfection; their fiber has become tender in the canning process. That means that everyone can tolerate them, even people with irritable bowels.
See plenty of other tips for encouraging children to eat vegetables
Where do they come from?
Origins and varieties
Origins: Probably native to central Asia or the Mediterranean, this plant was one of the first vegetables to be cultivated. The shape (rounded, oval, flat), color (black, yellow, red, orange), texture, and flavor vary according to the type. India, Canada, and Turkey are the top three lentil producers in the world. Canada and India together produce 70% of the world's lentils.
Varieties: In Europe, green lentils are the most common. Their shells range in color from very dark green to steel blue. In France, there is an official AOC (controlled designation of origin) for the Puy-en-Velay green lentil and also for the renowned small-grain Berry lentil. Red lentils, with a small and round grain, are less common.
Blond lentils, yellow-green, larger and less flavorful, and brown lentils are not grown in France. Pink or "coral" lentils, grown in India, North Africa, and the Middle East, are always sold shelled.