One of the recommendations of the French cancer prevention awareness campaign is to eat more vegetables. Catchy key messages include "Eating more vegetables and whole grains reduces your risk of developing certain cancers and definitely isn't the end of the world!"
In early September 2017, the French National Cancer Institute and the Ministry of Social Affairs and Health launched a cancer prevention awareness campaign. The messages primarily focus on dietary and lifestyle factors that may help reduce the incidence of preventable cancers.
They aim to raise the public's awareness with popular, everyday expressions to encourage as many people as possible to be more aware of daily eating habits that help prevent cancer.
That is not asking too much!
40% of all cancers are caused by exposure to avoidable cancer risk factors, which are often associated with behavioural and lifestyle factors (food, alcohol, smoking, exercise). In France, every year 355,000 people are diagnosed with cancer and it is estimated that 40% of these cases could have been prevented!
The campaign focuses on the consumption of vegetables, pulses and whole grains, as well as on limiting alcohol consumption with such impactful messages as: "Franchement, c'est pas la mer à boire" (That is not asking too much) or "Ce n'est vraiment pas la fin des haricots" (It's not the end of the world).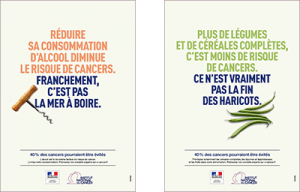 Cancer: how eating vegetables can protect you from cancer
The new campaign hopes to eliminate fatalistic beliefs about cancer, which often give priority to genetic and environmental factors over behavioural factors. It offers clear advice proving that you can take action by making a few simple, lifestyle changes.
Vegetables and pulses can help protect against several cancers, including mouth cancer, oesophageal cancer, colon and stomach cancer, because they are a rich source of dietary fibre, vitamins and minerals and other antioxidants.
The French National Cancer Institute also wants to remind the public that there is no such thing as a single miracle food that can prevent cancer. The idea is to balance consumption patterns across the board, with a balanced and varied diet, that also limits the risk of overweight and obesity.
Read our monograph to learn more about eating
behaviour in relation to nutritional messages