In March, Dietitians of Canada celebrate Nutrition Month. Events include The Great Big Crunch organized by FoodShare, which will be held in schools on March 1.
This year, Dietitians of Canada have chosen the slogan "Unlock the Potential of Food." This public campaign aims to help people discover the many benefits of food for health and well-being.
Realizing the limitless potential of food
It focuses on food's limitless potential in five areas: nutrition, education, prevention, healing and bringing people together. The five key messages of Nutrition Month 2018 are:
Potential to fuel: Stay energized by planning nutritious snacks into your day.
Potential to discover: Foster healthy eating habits in children by teaching them to shop and cook.
Potential to prevent: Foster healthy eating habits in children by teaching them to shop and cook.
Potential to heal: Learn how food can promote healing and how dietitians work with health care teams to make a difference
Potential to bring us together: Enjoy the benefits of bringing families and friends together with food.

Nutrition Month 2018 Resources
A factsheet for each key message featuring a wealth of practical tips and mouth-watering recipes is available on the campaign website. You'll also find a map of activities organized across Canada. Plus, you're invited to "Take the Challenge" and show your commitment on social media to unlocking the potential of food in March.
Dietitians and nutritionists in all areas of practice can download a toolkit to help them engage the public. It contains various materials and resources to promote food's immense potential.
March 14 will be the 9th Dietitians Day—an occasion to inform people about healthy eating and the services these health care professionals provide.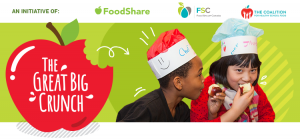 Join in The Great Big Crunch on March 1
Nutrition Month celebrations include The Great Big Crunch, a fun activity for schools across Canada. Adults, children, students, teachers and school staff are invited to bite into an apple on March 1 at 2:30 p.m. EST.
Organized by Food Share in partnership with Food Secure Canada and the Coalition for Healthy Food in Schools , The Great Big Crunch promotes healthy local food in schools.
By focusing on locally grown apples, the organizers hope to raise awareness among children and staff about the many aspects of food. Crunchers can learn more about nutrition, cooking, entrepreneurship, composting, sustainable development and have fun tasting.
It's a great way to promote nutritious snacks, and a fun opportunity to show that we can all enjoy locally grown apples all year long in Canada.
To take part in The Great Big Crunch, schools need to register by completing the online form. They can then download the toolkit to help them organize their event.