NutriQuébec will be the biggest study on eating habits ever conducted in Quebec. Read the interview with scientific director Benoît Lamarche to learn more about it.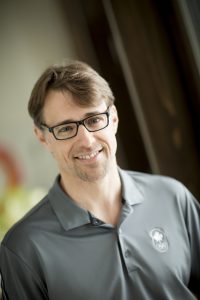 How is NutriQuébec different from other studies on eating habits?
There is very little data on eating habits in Quebec. We have data from ad-hoc surveys on consumption, but not from cohort studies, which follow groups of individuals over a long period of time. NutriQuébec will follow a large group of people for many years, so we'll be able to see how Quebecers' eating habits change.
What are the objectives?
NutriQuébec aims to create an accurate picture of Quebecers' lifestyles, with a particular focus on eating habits. This will enable us to identify the impact of certain public health actions on people's behaviours. Ultimately, our goal is to study the relationship between food and health and to help decision-makers implement appropriate health policies.

What sparked the study?
We were inspired by the Étude NutriNet-Santé, a study that was initiated over 10 years ago by researchers in France. This cohort study involving tens of thousands of participants called "nutrinautes" has demonstrated how a study can contribute to people's health. For example, the findings led to the creation of the Nutri-Score. This nutritional indicator, which has been displayed on the front of food packaging since 2016, tells consumers about products' nutritional quality to help them make informed choices. Many countries, including Belgium and Spain, have introduced the Nutri-Score, which shows the full impact of this research.
How does it work?
We wanted it to be as easy as possible for people to participate, so everything is done online. Our goal is to recruit 20,000 adults across Quebec. Participation involves registering, then completing nine questionnaires each year about eating habits and other food and lifestyle topics, such as physical activity, food security and sleep. We'll follow participants for a maximum of 25 years. With such a cohort, we'll be able to carry out detailed analyses of their lifestyles. Quebecers who participate in NutriQuébec will play a leading role in advancing public health.
Canada's Food Guide and the EAT-Lancet report recommend eating more fruits, vegetables and other plant-based foods. Do Quebecers fall short of these recommendations?
Fewer than 40% of Quebecers eat the recommended daily amount of fruits and vegetables. Nearly 30% of calories consumed come from low-nutrient foods that Canada's Food Guide recommends limiting. Yet healthy eating has been promoted in Quebec for over 30 years. On the whole, people know what eating well means, but find it hard to apply the principles of healthy eating every day. NutriQuébec will help us identify the most promising strategies and most effective ways to help people eat better in the long term and, in doing so, improve their health.
Resources:
To participate (adults aged 18 or older living in Quebec): https://nutriquebec.com/en/redirection-to-registration/