Obesity-related diseases will kill more than 90 million people in OECD countries in the next 30 years, with life expectancy reduced by nearly 3 years. GDP is also 3.3% lower as a result, with a serious impact on personal budgets, reaching US$360 per capita per year, according to a new OECD report.
Working with more than 100 countries, the OECD (Organisation for Economic Co-operation and Development) is a global forum that promotes policies to improve the economic and social well-being of people around the world. Its latest report shows that more than half the population is overweight in 34 out of 36 OECD countries, and that nearly one in four persons is obese. Average adult obesity rates in OECD countries rose from 21% in 2010 to 24% in 2016. In just a few years, 50 million more people have joined the ranks of the obese.
Obesity creates and reinforces inequalities
Children, in particular, are paying a heavy price for obesity according to the OECD. The report points out that overweight children perform less well at school, are more likely to miss classes and, when they grow up, are less likely to complete their higher education. They also have lower life satisfaction and are up to three times more likely to be bullied, which in turn can contribute to lower school performance.
Obese adults are not spared either. They are at greater risk of chronic conditions, such as diabetes, and their life expectancy is significantly reduced. In the EU28, women and men in the lowest income brackets are respectively 90% and 50% more likely to be obese than those in the highest income groups, which also increases inequality. People with at least one chronic illness related to excess weight have 8% less chance of being employed in the following year. When they are employed, they are 3.4% more likely to be absent or less productive.
Read also:
Do you know this reference paper on childhood obesity?
The fight against obesity has a significant economic impact
The report notes that OECD countries already spend 8.4% of their total health budget on treating obesity-related diseases – the equivalent of about US$311 billion (€282 billion), or US$209 (€188) per capita per year. Obesity is responsible for 70% of diabetes treatment costs, 23% of cardiovascular illnesses and 9% of cancers.
Yet beyond the depressing assessment of the financial cost of obestity, a new OECD analysis presented in the report reveals that investing in prevention would quickly pay off. It highlights initiatives such as improved labelling of food in shops and restaurants, and stricter advertising regulations of unhealthy foods for children. According to the report, every dollar invested in the prevention of obesity would generate an economic return of up to six dollars.
From economic gains to improved quality of life
A 20% reduction of the calory content in energy-rich foods (crisps, confectionery, sugary drinks, etc.) would prevent more than a million cases of chronic diseases per year, especially heart disease. Actions targeting the entire population, such as including nutritional information on menus, and media campaigns could lead to gains of between 51,000 and 115,000 life years per year by 2050 in the 36 countries included in the analysis. This would be the equivalent of preventing all the road deaths in the EU and the OECD countries respectively. Significant savings would also be achieved with menu labelling alone, with a projection of up to US$13 billion (€11.7 billion) saved between 2020 and 2050.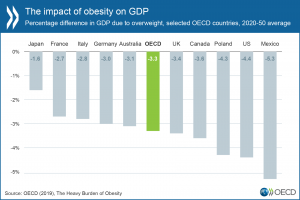 The report, as well as the country notes for Australia, Canada, France, Germany, Italy, Mexico, Spain and the United Kingdom, are available here.