In recent years, urban agriculture has become a growing movement in Montreal with scores of fresh vegetable initiatives sprouting up all over the city.
Le Palais des congrès convention centre is a precursor with its green roof and vertical hydroponic wall garden. Recently, the sale of organic vegetables from a supermarket's rooftop garden is testimony to the enthusiasm of entrepreneurs and city-dwellers for local farms.
Urban agriculture experimentation on Palais des congrès rooftop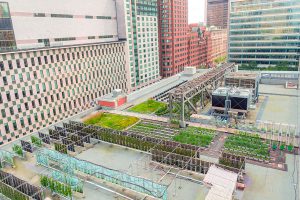 The Palais' Urban Agriculture Lab is a showcase for experimentation of innovative technologies and practices in urban greening on large roof surfaces. Launched in 2011, Culti-VERT is an extensive rooftop container garden (more than 450 containers). It explores various techniques for growing vegetables, fruits, aromatic and medicinal plants, and flowers. Culti-Vert aims to preserve plant heritage, especially old and rare varieties of onion, spinach and tomato. This rooftop garden is carried out with the expertise of La ligne verte (Green Line).
Launched in 2016, VERTical is an urban farming project based on a scaffold wall structure covered with natural or synthetic membranes and used for growing fine herbs, leafy vegetables, strawberries and edible flowers. A first in North America, VERTical was developed jointly with AU/LAB, a laboratory for urban agriculture research, training, innovation and activities associated with the faculty of science and institute of environmental studies at Université du Québec à Montréal (UQAM).
Three pollinating beehives are also installed on the roofs, with the collaboration of Miel Montréal.
Beyond market garden production, the objectives of these initiatives include reducing heat islands and improving air quality. It is also a way to promote urban agriculture projects among neighbouring buildings. Furthermore, these projects have a local and community dimension: the harvested vegetables, herbs, fruits and flowers are used in the dishes the Palais caterer prepares for guests, and a portion is donated to homeless shelters.
Frais du toit: Supermarket sells organic produce from its rooftop garden
Montreal's Saint-Laurent borough now boasts a green roof where it grows vegetables it sells in-store. Partnering with experts from La ligne verte, this urban farm produces some 30 varieties of vegetables under the brand name Frais du Toit [in French (Fresh from the Roof – our translation)]. Grocery store customers can follow, live on-screen, the work being carried out over their heads in this immense vegetable garden.
Owned by an audacious family, the supermarket wants its customers to see for themselves the challenges and rewards of growing organic vegetables. Their initiative helps reduce in-store food waste and educate consumers about local agriculture and sustainable development innovations.