The government, businesses, organizations and individuals in Quebec are increasingly active on food waste issues.
Programs and tools to encourage supermarkets, public markets and small businesses to recover unsold food are being developed at both the provincial and municipal level, as well as initiatives to teach consumers how to buy smart and cook smart.
Recovering food from supermarkets
The supermarket recovery program is the result of a partnership between Food Banks of Quebec (FBQ) and major supermarkets. Tonnes of unsold food that is still good to eat ends up in landfills when it could be redistributed by FBQ to the many families with food insecurity.
So, in 2013, Moisson Montréal launched a pilot project to recover unsold food from supermarkets. In 2015, the project was successfully implemented by Moisson food bank members in other parts of Quebec. And in April 2017, the FBQ network announced the province-wide launch of the Supermarket Recovery Program (SRP) with funding from Recyc-Québec. All Moisson members in Quebec now participate in SRP.
The Society for the Celebrations of Montreal's 375th Anniversary and its Board of Governors have just announced a major investment in a fruit and vegetable conversion unit. This means Moisson Montréal will be able to provide more food to people in need and reduce more food waste.
Helping small food businesses in Montreal
In 2016, Ville en vert produced the Guide pour la récupération alimentaire auprès des petits et moyens commerces à Montréal [food recovery guide for small and medium businesses in Montreal]. Developed in collaboration with Solidarité Ahuntsic's Chantier sécurité alimentaire [food security project], it helps businesses manage unsold and surplus food.
Managers of grocery stores, bakeries and others stores who believe this food can be used as a resource for the community collaborate with local organizations, which redistribute the food to local residents needing food assistance.
Redistributing and cooking unsold food from public markets in Montreal
In 2017, the Centre de ressources et d'action communautaire de La Petite-Patrie [community resource and action centre], or CRAC-PP, set up a project to distribute unsold fruit and vegetables from Jean-Talon market. Each week, farmers with a stand at the market donate a myriad of fruit and vegetables, which are sorted and redistributed to about 100 people living on a low income.
Thanks to funding from the borough of Rosemont–La Petite-Patrie, CRAC-PP now has a refrigerated truck, a cold room and a kitchen. It hopes to take the initiative a step further and make preserves, sauces and jams with the produce received, and sell them at the market.
Reducing food waste in daycares
As part of Équiterre's Croqu'Plaisir project, which supports local organic sourcing, many daycares are taking steps to reduce food waste. This includes using standardized recipes and determining how much food is needed for meals. In addition, wilted vegetables are used to make stocks and soups.
Lunchtime leftovers can be used up in a number of ways:
Children can eat their evening meal at the daycare
Families, neighbours and daycare staff can buy meals to take home
They can be composted to make the most of organic waste
Équiterre believes these are great ways to teach kids about food waste.
Raising consumer awareness about food waste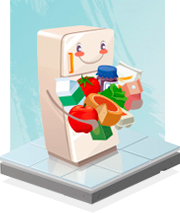 Food waste is an issue that concerns us all. So, this fall, the Ministère de l'Agriculture, des Pêcheries et de l'Alimentation du Québec (MAPAQ) created a questionnaire to raise public awareness.
It takes two minutes to answer the 13 questions, which encourage you to think about your shopping habits and how you prepare food. At the end, you find out what kind of consumer you are: enthusiastic, impulsive, careful or sensible. You're also provided with tips and resources depending on your answers.
What kind of consumer are you?