Chef Johanna Le Pape is a world champion of pastry and specialises in healthy pastry, no less! We met with her to discuss her work as well as her rather original approach. Because Johanna uses fruit and veg in her pastry and strongly believes in zero waste! An interview that cuts straight to the chase.
How to describe Johanna Le Pape in a few words? She feels very passionately about "beauty", sharing her expertise and creating healthy, balanced, tasty and light pastry. Relying on her scientific studies and her experience in high-end patisserie, she developed a new vision on gastronomy, which is inspired by a sense of well-being, and has worked in some of the world's best establishments (including the Hotel Lutetia, the Le Meurice Palace Alain Ducasse, at Ladurée,…). Although she was crowned the World Champion of Pastry at the Mondial des Arts Sucrés in 2014, she never forgets about one of her first loves, namely nutrition. Oh, and Johanna never wastes anything… She can create and transform anything into something truly delicious!
How did you have the idea of making better use of fruit and vegetable peels in cooking, more specifically in pastry?
Johanna: For years I've been saying that 'food waste is the real treasure'. The raw ingredient is a noble material. When you think about the lifecycle of a product, it's difficult to believe that you have to dispose of so much of it. From the stone, to the pulp and even the peel, each part of a fruit or vegetable has nutritional value and undeniable taste.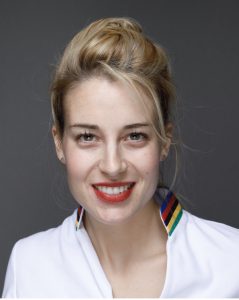 What are the basic rules to follow to take maximum advantage of the taste and the nutritional value?
Johanna: You need to take good care of your product, as soon as you harvest it right up until you decide to use it, to fully enjoy its nutritional value and its taste. How you store it is also very important. Using the product as soon as you get it guarantees a fresh product, with plenty of nutritional value. And finally, you need to diversify your cooking and processing methods to preserve the product.
Which fruit and vegetable peels are easier to 'recycle' when cooking?
Johanna: ALL peels can be used in one way or another. You can dehydrate them and use them as a powder, squeeze them to use the juice, mix them and reuse them in another product. We have so many ways of bringing out the best of these products, which are a good source of fibre, nutrients and precious antioxidants, something that many people are unaware of.
How can we convince more sceptical consumers to do this on a daily basis?
Johanna: There are so many arguments you can use:
Challenge yourself to reduce your waste by half! Set yourself new targets time and again to limit your waste by asking yourself this simple question: can I reuse this?
Save money by improving your products using the residual waste of your fruit and veg! The numbers are horrifying: 30% of all food waste is directly associated with fruit and vegetables!
Follow the lead of the influencers who discuss food waste. They have plenty of tips to share!
Can you give some examples of quick and easy recipes that can be cooked at home?
Johanna: Here are some examples of my 'treasure' recipes:
Vegetable and fruit crisps, to have with your drink
Crackers made from dehydrated grains-vegetables-fruit
Powdered fruit and vegetables to garnish your dishes and plates
Fruit pastes, which you can use as a new ingredient in a cake
Bases for condiments, dips for your crisps, chips…
Can you inspire us and suggest a dessert that is made exclusively from peels?
My favourite is a carrot, walnut and citrus cake.
The carrot is grated and immediately added to the dough. I also extract juice from the carrot tops, which I also use in the dough. The walnuts are crushed and the hull mixed to obtain a powder, which I use to garnish the cake. Finally, I peel and press the citrus fruit. The juice is added to the dough. I blanch the peels three times and then prepare candied citrus peel. The lemon zest is dried and ground down to obtain a fine powder. It's absolutely delicious! Un délice!