Chestnuts: gluten-free energy!
Chestnuts are low in fat but rich in carbohydrates. This makes them an ideal high-energy snack and flour made from chestnuts is a useful gluten-free alternative to traditional flours for those with coeliac disease.
Chestnuts are also:
A source of vitamin B9 (cell renewal, which is very important for pregnant women for the development of the fetus, growing children, and people recovering from illness).
A source of magnesium (lowers fatigue, muscle contraction, protein synthesis, bone and tooth health)
A source of potassium (the nervous system, muscle function, blood pressure)
It also contains:
Vitamin B1
A lot of fiber
Manganese
High levels of copper
When is the right
time to eat it?
In the autumn.
Chestnuts are in season from mid-September to the end of November.
Vegetable patch
or urban balcony?
For optimum growth, chestnut enjoys sunny locations or partial shade in a deep, well-drained soil, and slightly acidic ground (pH less than 7). More growing tips. 
Choosing the best chestnuts:
Chestnuts should always be shiny, full, and not visibly damaged.
A tip for finding out if the chestnut is OK to use: Put chestnuts in a bowl of water before cooking. If they float, they're probably hollow. Healthy fruits, which are heavier, don't float.
Storing chestnuts:
In the refrigerator: Seven to eight days maximum in the vegetable drawer, never store at room temperature! They don't do well in hot or wet conditions.
Freezing: Peel and cook before freezing. Frozen chestnuts are ideal for roasting.
How to prepare chestnuts:
They have to be peeled twice! Chestnuts require hard work! The outer shell needs to be removed, as well as the thin inner skin, which is bitter.
Using a very sharp knife, pierce the round part of the chestnut to the inner layer and boil for three to five minutes.
Tip for removing the outer shell: Adding a tablespoon of oil to the water softens the shell and makes it easier to peel off.
Cooking instructions:
20 mins: In the frying pan, barbecue, or oven
15 mins: In water
10 mins: In the microwave
Tip for removing the inner layer: Remove the outer shell, and then put the chestnuts in the microwave for one minute at full power. Roll the chestnuts between your hands (be careful not to burn yourself!): The inner skin should then come off easily.
Chestnuts should also be pierced before frying, cooking in the oven, or on the barbecue to prevent them from bursting. Once cooked, they should open easily.
Chestnuts go well with:
Chestnuts go equally well with sweet and savory dishes. It's also the star of Christmas dishes. It goes perfectly with poultry (chicken, guinea fowl, etc.) and game, foie gras, dried meats, ripe cheeses or goats' cheese, fish, cream, vanilla, chocolate, apples, zucchini, pumpkins, or mushrooms, which is a particularly delicious combination.
Recipe idea: Grilled or roast chestnuts are wonderful as an aperitif with drinks. Lightly salted, they have four to five times fewer calories than the usually served peanuts, and ten times less fat and salt, and also make an original dish!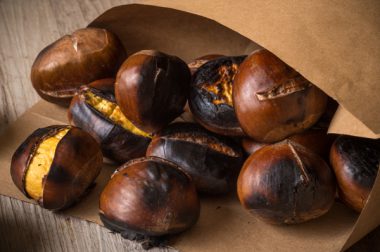 Young children
Chestnuts shouldn't be given to infants under the age of 12 months. They are gluten-free and can be served as a purée or creamed with yoghurt or fromage frais.
And everyone else
The high levels of complex carbohydrates (starch), potassium, and magnesium make chestnuts a particularly attractive option for sportspeople and those with an active lifestyle. They're also very filling, which makes them the ideal snack before exercise!
See plenty of other tips for encouraging children to eat vegetables
Where do they come from?
Origins and varieties
Origins: China is the biggest producer in the world, followed by Europe (Turkey, Italy, Greece, and France). The Greeks are the biggest consumers of chestnuts in the world.
Varieties: There are several chestnut varieties (Dorée de Lyon, Herria, Vignols, Naples, Turin, etc.), generally distinguished by region of origin, taste, color, and size.