Children's low vegetable and fruit consumption is a major health issue in Russia. Since April 2017, the Louis Bonduelle Foundation Russia has been offering support for a major awareness-raising campaign in 1,400 schools. We sat down for a chat with the Russian spokesperson, Serafima Eremenko.
In Russia, people on the whole are not that aware of how important it is for children to eat sufficient amounts of fruit and vegetables at school and at home. That is why national education programmes need to be developed and implemented.
This problematic context culminated in the development of a programme, entitled "ABC of nutrition" in the greater Moscow region and in other large cities around the country (Saint Petersburg, Samara, Yekaterinburg, Novosibirsk, Volgograd, Kazan), with financial support from the Louis Bonduelle Foundation in Russia.
The programme aims to change behaviours and increase children's daily intake of vegetables, according to Serafima Eremenko, Foundation Communication Manager of the Louis Bonduelle Foundation Russia.
1,400 schools, 250,000 children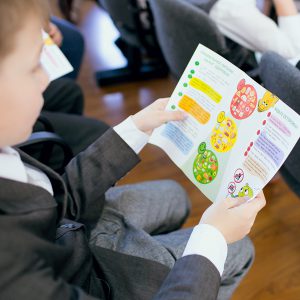 The project's scope encompasses 1,400 schools, where 3,200 lessons will be given, says Serafima Eremenko. It will run for one year, in collaboration with the Research Institute for Children's and Adolescents' Health and Hygiene (All-Russian Society for the Development of School and University Medicine and Health in Moscow).
The institute's mission is to study the impact of environmental factors on the health and well-being of children and adolescents. It also wishes to develop activities that focus on protecting their health and promoting a healthy lifestyle.
A fun and interactive programme
The classroom activities are fun and discuss the health benefits of fruit and vegetables, says Serafima Eremenko. Paediatricians who are accustomed to communicate with children present posters, brochures and specially developed games to the children, which were prepared by specialists from the Research Institute for Children's and Adolescents' Health and Hygiene.
These tools have been adapted by psychologists for children. After the lesson, each child receives colourful informative brochures, which were specially designed with children in mind, as well as a brief overview of the main points of the talk. They can use the booklets to educate themselves about this or read them at home with their parents.
The project is also being evaluated. All the results will be published on September 2018 during a national press conference.
The perfect leverage for the Foundation in Russia
"We wanted to launch the Louis Bonduelle Foundation in Russia, with a large-scale programme that was already being implemented, so people would understand that this was not just a PR campaign. Instead, we believe in targeted actions that will help Russian pupils adopt a diet that is more beneficial to their health.
I'm really proud to be part of this project because it is always gratifying to help to change behaviours and improve people's well-being, especially for children", Serafima Eremenko concludes.