In March, Agriculture in the Classroom Canada is organizing Canadian Agriculture Literacy Month. Croquarium is the event ambassador in Quebec.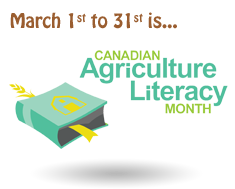 Canadian Agriculture Literacy Month will be celebrated for the seventh time in March this year. This event is an initiative of Agriculture in the Classroom Canada (AICT-C) and is supported by Farm Credit Canada. AICT-C organizes and delivers educational activities promoting the agriculture and agri-food industry in nine provinces.
The 2018 Canadian Agriculture Literacy Month theme is "Our Food. Our Story." The goal is to run a multitude of activities that teach about farming to over 30,000 students in more than 800 classrooms across Canada in March.
Raising awareness of Canadian agriculture
The organizers hope to improve students' knowledge and understanding of challenges in the agricultural industry and inform them about career opportunities. The educational program also gives young people the opportunity to think about the role of agriculture and its value to them and their communities.
Students will learn about all aspects of farming through a variety of fun, practical activities. These future consumers will discover where their food comes from and the various ways of producing it.
At least 700 volunteers will spend time in schools talking about their experience in food and farming. In this way, local experts and farmers will create meaningful relationships with students and teachers. They will hopefully spark students' interest in a career in agriculture, too.
Canadian Agriculture Literacy Month in Quebec
Croquarium, the event ambassador in Quebec for the second year in a row, encourages you and your children to take part in activities connected to farming throughout March. You'll find many ideas online for discovering the joys of farming at home, as a family or at school.
Like to show budding young gardeners how vegetable seeds grow? Download Croquarium's free creative learning activity Pousses et germinations [Sprouting seeds]!
For more information on Canadian Agriculture Literacy Month