Community Food Centres Canada strives to use healthy food as a tool to fight poverty.
Canada is among the richest countries in the world. And yet 14% of Canadians have low incomes. That's nearly 5 million people who are affected by poverty and food insecurity, and at risk of poor health and isolation.
Community Food Centres Canada has decided to focus on using healthy food as a tool to improve the health and well-being of people who are most in need.
From food bank to community food centre
Community centres are an integral part of Canadian culture. Commonly found in cities, they enhance community life. Most offer educational and leisure activities at little or no cost so everyone can benefit from them.
In the early '80s, The Stop in Toronto, one of Canada's first food banks, drew inspiration from this model and began providing healthy food to the community, as well as offering activities to reduce isolation and promote food education.
The results were so positive that in 2011, a pilot project following the same model was launched in another community in Ontario. This led to the creation of Community Food Centres Canada in 2012, whose mission is to support the development of community food centres in low-income communities across Canada.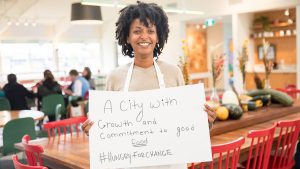 Integrated, multidimensional programs
There are now 12 community food centres in Canada. In addition to distributing fresh food baskets, they hold community meals, markets with fruits and vegetables grown in their gardens, as well as gardening and cooking workshops for all ages.
They also provide education and engagement programs with the aim of giving people a space to talk about issues affecting them, such as food insecurity, poverty and health.
Through these initiatives, community food centres improve access to fresh fruits and vegetables and develop participants' knowledge, skills and social ties.
The Depot: Quebec's first community food centre
In summer 2018, a Quebec member joined the network. The Depot is located in Montreal's Notre‑Dame‑de‑Grâce neighbourhood.
Like other network members, it offers meals, distributes food baskets, and runs gardening and cooking activities. The Boîte à lunch [lunch box] program, which reaches over 250 children in 14 schools every year, is well known in Montreal. Participants learn how to cook and prepare a balanced lunch to take to school.
The Depot also helps develop urban agriculture by offering a garden-planting service. Schools, hospitals and seniors' residences can ask the team to plant an educational, therapeutic or recreational garden tailored to their needs.
Community food centres are successful because they combine education, support and inclusion. Participants not only have access to healthy food, they report feeling physically healthier and feeling a sense of belonging to the community. The centres provide practical assistance that actually helps combat poverty and food insecurity.
Sources
Statistics Canada, 2016 Census