One of the rare vegetables that contains omega-3 fatty acids
Its high polyunsaturated fatty acid (omega-3) content makes purslane highly recommendable for cardiovascular health.
It also contains:
iron (

cognitive functions, oxygen transport, energy metabolism, immune system)
Purslane is also:
a source of potassium (for the nervous system, muscular function, and blood pressure)
a source of vitamin C (for the immune system, collagen formation, energy, the nervous system, iron absorption, and fatigue reduction)
a source of magnesium (for fatigue reduction, energy, protein synthesis, muscular contraction, nerve impulse transmission, and bone and teeth health)
When is the right
time to eat it?
From spring to fall
Purslane is available pratically all year-round!
In which hemisphere and at what time of the year are vegetables available? Find out here
Vegetable patch
or urban balcony?
Purslane is an herbaceous annual that grows well in light, well-drained soil, as well as in full sun.
To learn everything you need to know about growing purslane, read the page on growing advice.
Choosing and
storing purslane
Choosing your purslane well:
The leaves must be very green, fleshy, and shiny.
Storing your purslane well:
In the refrigerator: One to two days in the vegetable drawer, as it is very delicate.
If your purslane is a little withered, make a cream of purslane, add to a vegetable soup just before you serve it, or make a refreshing gazpacho! Alternatively, make a stuffing with some feta and put into some sheets of brick pastry, to make delicious nibbles.
How to prepare purslane
Purslane is best eaten young, when it is very tasty, with a spongy consistency and a slightly acidulated and tangy taste (bigger leaves become hard and take on a strong flavor). This salad green should be used quickly after purchase, as it doesn't keep for very long. Don't let it soak in water, or it'll lose its vitamins!
Purslane goes well with…
Raw: Purslane can add a bit of crunch to other salad greens, such as lamb's lettuce, arugula, or ordinary lettuce; it also makes for an exquisite combination of flavors and vitamins when paired with red peppers, lemon, parmesan, or olive oil.
As with herbs, you can add it to a soup, omelet, or potatoes after cooking.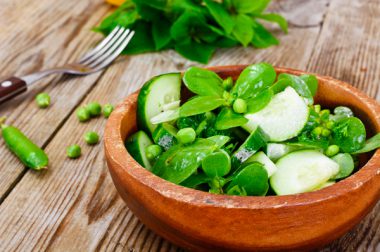 Where do they come from?
Origins and varieties
Origins: It is produced by the Netherlands, England, France, Belgium, and Germany.
Varieties: Purslane (Portulaca oleacera) is a leaf vegetable cultivated like spinach. This summer annual is entirely fleshy, with creeping or upright branchy stems that are reddish in color. Its taproot has a whitish hue. Its opposite leaves, which are very shiny, have short stalks and an oval shape. Their color ranges from green to red, and their flowers are yellow.
There are two varieties: golden purslane and green purslane.