To mark World Food Day, Johanna Le Pape, a star of the sugar world, brings us her environmentally friendly carrot cake recipe. Foodies, don't miss out!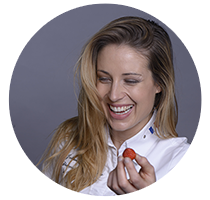 World Food Day: a chance to reconsider what we eat
#WorldFoodDay is one of the most celebrated days in the United Nations' calendar. Governments, businesses, NGOs, the media and the general public come together for hundreds of events and activities, which aim to:
promote worldwide awareness and
action for those who suffer from hunger and for the need to ensure healthy diets for all.
This edition, celebrated on 16 October, marks the 75th anniversary of the Food and Agriculture Organization of the United Nations (FAO). It takes places during an exceptional period, in which every country around the world is being impacted by the Covid-19 pandemic. World Food Day is a chance to reflect on and rekindle our appreciation for a thing that some take for granted and many go without: food.
Grow, nourish, sustain: the principles of sustainable food
World Food Day calls for global solidarity, to help the most vulnerable populations recover and to make their food systems more resilient and robust, so that they can withstand increasing volatility and climate shocks, so that there is healthy, affordable and sustainable food for all, and so that those who work in food systems can earn a decent living.
In other words, we need to make sure that our food systems allow us to grow a diverse range of foodstuffs, so that we can feed a growing global population and save the planet, together. But how can we make the switch to a sustainable diet? A sustainable diet has certain requirements, such as the introduction of more plant-based proteins, as summarized in the infographic below:
Come together and enjoy: a sustainable diet is also a gourmet diet!
Rethinking our food to make it more resilient and more sustainable does not necessarily mean making profound or radical changes in our everyday habits. Everything starts with making small changes in our kitchens that make a difference, such as choosing ingredients smartly and avoiding food waste.
Johanna Le Pape, a star of the sugar world and committed healthy patisserie chef, is a firm believer of this. Her scientific studies and mastery of high-end patisserie offer a new vision of healthy gastronomy. She particularly focuses on devising zero-waste recipes.
And yes, it is possible to make desserts using vegetables (in their entirety) and fruit with pips, skins, etc. From the heart of the fruit pulp to the skin, every part is valuable not only nutritionally but also taste-wise! Based on this vision, Johanna has come up with a revisited carrot cake with caramelized pecans that she shares with us here.
Johanna's recipe: carrot cake with caramelized pecans
Ingredients

83g carrots
40g brown sugar
70g eggs
25g flour
58g de powdered almonds
3g baking powder
1g quatre épices (4-spice mix)
1g cinnamon
Lemon
1g powdered ginger
100g pecans
12g water
62g caster sugar
1g fleur de sel
Equipment/utensils needed
A 13.5cm cake tin, a blender, a whisk, a spatula, a saucepan, a flipper/fish slice, a baking tray covered with a sheet of baking paper, scales, a medium-sized mixing bowl, a pastry/basting brush, a small bowl (for the melted butter), a small grater for the lemon zest, and a silicone baking mat.
Instructions
Peel and chop a carrot. Weigh 90g of it and cut this into small pieces. Put it in a blender to get grated carrot. Then whisk the eggs and brown sugar. Add the flour, powdered almonds and baking powder. Mix well. Grate the lemon zest and add it with the spices to the mix. Finish by adding the grated carrot. Mix well one last time.
Melt some butter and grease the cake tin using the pastry brush. Pour the cake mixture into the tin, and then sprinkle the caramelized pecans on top without allowing them to sink. Bake in the oven at 170°C for 35 minutes. Check the baking paper with the point of a knife. The blade needs to come out looking clean.
Meanwhile, make a very light amber caramel with water and caster sugar. Once the caramel is ready, pour the pecans into the pan and finish the caramelization. Finally, add the fleur de sel, and mix well. Leave to cool on a silicone baking mat.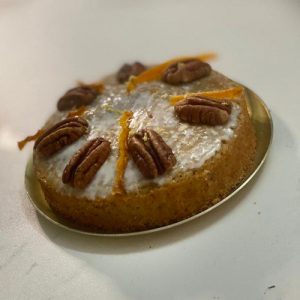 What can you do with carrot peelings?
These are some of Johanna's suggestions:
Carrot chips to have with drinks
Carrot and dehydrated grain crackers
Carrot powder to garnish your dishes and decorate your plates
Use in condiments or dips
Watch Johanna's IGTV video to learn other tricks for making desserts with vegetables and avoiding food waste