A unique chair
What is the ANCA Chair? Established in 2010 under the impetus of the INRAE/AgroParisTech Joint Research Unit for Nutritional Physiology and Eating Behaviour, the ANCA Chair (Aliment Nutrition Comportement Alimentaire – French for Food Nutrition Eating Behaviour) is a partnership chair which designs innovative and entertaining programmes to educate consumers on the challenges of sustainable food.
Its main objective is to respond to growing public concern and demands, and to raise consumer awareness of the social and health challenges we face in terms of food. How? By advocating a non-prescriptive discourse, based on our lifestyles and encouraging positive changes in our eating habits.
To achieve this, the ANCA Chair favours dialogue and creativity through highly innovative actions, supported by scientific experts. This approach facilitates the sharing of recommendations.
The ANCA Chair is supported by the Louis Bonduelle Foundation, the SEB Group, Les Mousquetaires and Ferrandi-Paris (with the AgroParisTech Foundation, under the aegis of the ParisTech Foundation).
Eating towards the Future: a digital comic
The first illustration of the scheme's creativity came in 2018 with the digital comic project 'Manger vers le Futur' (Eating towards the Future), which was rolled out on Instagram. The goal was to raise awareness about our future food challenges by publishing an episode a day for 30 days. Readers followed Ana, Raman, Edgar and Ines, four young graduates who promised to meet at least once a year for a meal, in the course of 30 years.
The story follows their personal, emotional and especially dietary adventures against the backdrop of a changing society marked by climate change, new technologies and consumer habits.
The project racked up an audience of more than 400,000 views, a community of 4,500 followers on Instagram (at the end of 2020), received coverage from more than 30 media sources, including France Culture, Konbini, Les Inrocks, and Nova, and has been adapted into a travelling exhibition. Altogether, the project reached more than 30,000 people.
NB: you can read the comic on its dedicated website
I Eat for the Future: the sequel…
Eating towards the Future came to an end in 2020. But building on the digital comic's success, a new immersive and innovative programme aimed at 18-35-year-olds immediately followed on in 2021, again on Instagram – 'Je Mange pour le Futur' (I Eat for the Future).
The science behind the project
According to projections, adopting a more sustainable diet would reduce the carbon impact of food consumption in France by 30% (source: INRAE). Our food choices are among levers that are available to preserve resources and the environment. But there are many obstacles. This programme, based on the latest scientific data, aims to address the complex issue of sustainable food and behavioural change.
The script? For 12 weeks, follow the journey of our heroine, Sasha, in her quest for a more sustainable diet. Her doubts, questions, successes, failures, obstacles (lack of time, tight budget, peer pressure), but also her determination to take action are shared with a community of over 12,000 followers (as of May 2021), and help build a strong sense of identification among the target audience.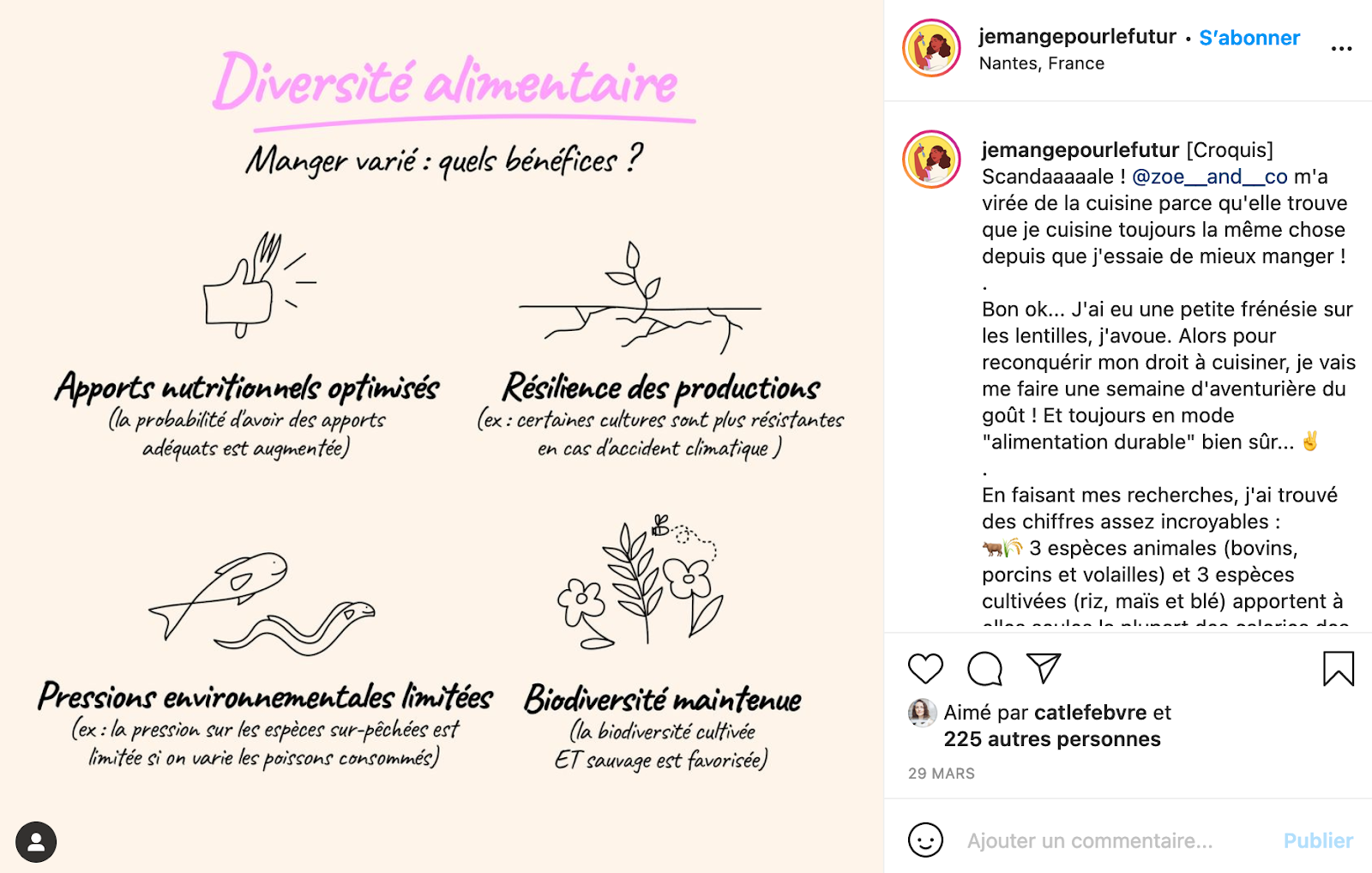 What is a chair?
A chair supported through corporate sponsorship aims to develop teaching and research expertise on themes defined with the partner company(ies). The principle is simple: a small team, led by a well-known scientist, develops research, initial training and ongoing education activities over a period of one to five years. These chairs make it possible to combine high-level research activities with the dissemination of knowledge to students or a wider public.