Cabbage — a vitamin C hit!
Vitamin C (the immune system, collagen formation, energy, the nervous system, fatigue, iron absorption) is the main attraction of cabbage: a 250 g serving of cooked cabbage provides roughly 3/4 of an adult's RDA.
Cabbage also contains:
Fiber

Calcium

Magnesium

Beta-carotene or provitamin A
Did you know? Cabbage has been proven to contain glucosinolates. It appears that these substances have powerful anti-cancer effects.
Numerous experiments carried out over the past 20 years on both humans and animals have proven that regular consumption of cabbage helps to prevent colon, stomach, lung, and esophageal cancers.
What's the best
time of year to eat cabbage?
During cold seasons.
It's available throughout the year, except in the summer! It's in season from October to April.
Kitchen garden or
city balcony?
Cabbage is a biennial plant that grows well in moist, deep, rich, cool soils.
To learn everything you need to know about growing cabbage, read the page on growing advice.
Choosing and
storing cabbage
Choosing the best cabbage:
Weigh the cabbage. The weight of the cabbage determines how fresh it is — it should be heavy and thick.
Leaves should be crisp and strong in color.
Storing cabbage:
In the refrigerator: Cabbage can be stored for one week in the vegetable drawer.
In the freezer: Blanch before freezing.
How to prepare cabbage:
Chop the cabbage into quarters after removing any wilted or damaged leaves, as well as the core. Wash the quarters and chop into thin strips.
Cooking times:
10 min: In boiling water to blanch, steam or en papillote
45 min: In water
20 min: In the pressure cooker
30 min: In the oven
10 min: In the frying pan or wok
Tip for reducing the smell of cabbage: Don't overcook. If you do, it will release a sulphuric odor. To reduce the odor, add a whole walnut (including the shell), a celery stalk, or a piece of bread.
Cabbage goes well with:
Cabbage goes well with invigorating, strong, acidic, and iodine-rich foods. This makes it ideal served with apples, guinea fowl, stewed meat dishes, fish, walnuts, carrots, celery, mustard, vinegar, and potatoes, etc.
It's a base ingredient in sauerkraut: it's fermented in brine and traditionally served with several types of meat like sausages, chops, and shanks, as well as potatoes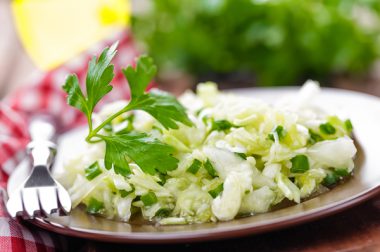 Young children
Cabbage has a strong taste and can sometimes irritate digestion and can be difficult to chew. Ideally, it shouldn't be served to children under 15 months. Older children will enjoy it in pork stew.
And everyone else
For those with sensitive digestion, cabbage should be blanched for 10 minutes in boiling water before using as part of a dish.
You can find lots of other tips for getting children to eat vegetables
Origins : Cabbage is grown in Europe and in Asia. China, India, Russia, Italy, Japan, South Korea, and Ukraine are the main producers worldwide of cabbages and other brassicas. Germans are the biggest consumers of the vegetable. Cabbage is very popular throughout Europe. It's one of the oldest vegetables consumed in the continent.
Varieties : There are several cabbage varieties. Depending on the variety, the leaves are green, white, or red. Leaves nearer the core are lighter as sunlight doesn't reach them. Milan cabbage, also known as Savoy cabbage, has green, frilly leaves. Savoy cabbage has a stronger flavor than other headed cabbages.