Celeriac: The ideal filling food!
Celeriac is very low in calories: it has a high water content and it also rich in fiber, which promotes regular digestion and also prevents hunger.
Key points: Celeriac is a great vegetable to use after the holiday season, when it's in season!
Celeriac is also:
A source of vitamin B9 (cell renewal, which is very important for pregnant women for the development of the fetus, growing children, and people recovering from illness).
A source of vitamin B1 (heart function, energy, the nervous system) when eaten raw!
A source of potassium (the nervous system, muscle function, blood pressure)
When is the right
time to eat it?
Year-round.
It's in season from October to March, but is also available throughout the year.
Vegetable patch
or urban balcony?
Celeriac is a biennial plant that grows well in humus-rich soil, and can tolerate light frost.
To learn everything you need to know about growing celeriac, read the page on growing advice.
Choosing the best celeriac:
Don't pick celeriacs that are too big: It might be hollow at the core
It should be thick and firm to the touch, white in color, and free from marks
Storing celeriac:
Store for five days unpeeled in the vegetable drawer of the refrigerator
If you have peeled or chopped the celeriac, slice it and sprinkle with lemon juice to prevent the flesh from turning black. Place in an airtight container
How to prepare celeriac:
Celeriac is easy to use in spite of its weight. Peel and remove eyes with the tip of a knife. Cut into quarters and sprinkle with lemon juice.
Tip: If you find raw celeriac hard to digest, grate it finely or cook.
Celeriac requires very little cooking time because its flesh is very tender.
Cooking instructions:
8 mins: In the pressure cooker or microwave
5 mins: In boiling water
5 mins: In boiling oil (crisps or chips)
20 mins: In the oven
15 mins: Fried
Celeriac goes well with
Celeriac is delicious grated if you like crunch, but it's also great fried, deep fried, or used in soups, gratins, and purées. Try it in a purée with grated Gruyère — kids love it!
Celeriac is also lovely in thick soups, served as fries, with mussels or other shellfish, or even with foie gras! Its slightly strong hazelnut flavor goes excellently with fried foie gras.
A tip for making celeriac purée less strong: Add a potato for a milder purée.
How do you make a proper celeriac remoulade? Grate the celeriac. Make a mustardy mayonnaise and mix well with the celeriac. Add capers and chopped pickles.
Did you know? It can be served as an aperitif, and has diuretic, laxative, anti-rheumatic and tonic effects. Celeriac juice helps ulcers and injuries to heal when applied directly as a compress.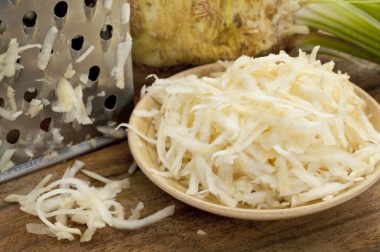 Young children
Children like celeriac and can eat it from the age of six months. It's easiest to begin with cooked celeriac served in a purée with a little milk (appropriate to the child's age), grated cheese, or cream.
And everyone else
Celeriac can cause allergy symptoms in people with pollen allergies, particularly for those with birch and wormwood allergies. Consult a health professional if you're concerned.
See plenty of other tips for encouraging children to eat vegetables
Where do they come from?
Origins and varieties
Origins : It's one of the oldest vegetables consumed in Europe. It's less common in the US and Canada. Celeriac mainly comes from Poland, Germany, the Netherlands, and France.
Varieties : Young celeriac is different to autumn celeriac. The first looks like a round, even, thick potato and weighs about 1 kg. Autumn celeriac, known as 'seasonal' celeriac, is bigger and weighs around 1.5 kg.