Since 2011, the Louis Bonduelle Foundation has been a partner to the Uniterres program run by the ANDES association, which works to create short distribution circuits between struggling farmers and food aid networks.
The ANDES association (Association Nationale de Développement des Épiceries Solidaires) supports vulnerable producers by guaranteeing them that part of their production will be purchased, this then being used to stock the Uniterres program's local "solidarity food stores".
Thanks to this program and the activities organized, people in precarious situations now have the pleasure of eating fresh products each week, which come from small local farms. The task of combining food aid with short distribution circuits is a challenge very much in keeping with the work carried out by the Louis Bonduelle Foundation to help people consume fruit and vegetables sustainably and healthily.
On 15 June, a Uniterres producers' meeting was held with all of the Gironde's solidarity food stores at Château Béthailhe in Artigues-Près-Bordeaux (33). For the occasion, 7 chefs from the Bordeaux area cooked dishes using fruit and vegetables from member producers, free of charge. The goal of this activity is to encourage the food aid beneficiaries to eat more fruit and vegetables, while at the same time making the most of local farmers' work and produce.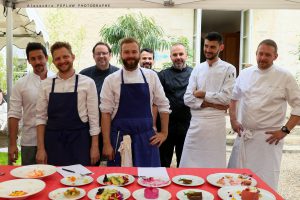 ANDES is a network of more than 335 solidarity food stores. It has been operating since 2012 in the Nouvelle-Aquitaine region, where 94 struggling farmers have joined the project. To date, this has made it possible to supply 36 solidarity food stores and in the process to provide 15,000 inhabitants each week with fresh and healthy products (183 tonnes of products are delivered each year).