The 'Les Saveurs du Marché' solidarity grocery store, opened in November 2005 in Mons-En-Barœul, supports around a hundred families in precarious situations in their daily life. It organizes, among other things, cooking workshops, leisure and cultural outings. It has also set up a thrift store. It encourages beneficiaries to get involved in the grocery store like cleaning, cooking, sorting and tidying clothes, collecting...
As part of these collecting, "picking" outings are organized at the Ferme du Paradis (Paradise farm) in Seclin (near Lille). Participants are ages from 3 to 79 years old, with a majority of women over 50. A "picking" is organized as follows:
Bus ride to Seclin. Participants are equipped with wheelbarrows, secateurs and baskets upon arrival before roaming the paths of the orchards and vegetable gardens, picking and collecting, according the seasons, cherries, strawberries, rhubarb, salad, parsley, mint, spring onions or even flowers!
It's an opportunity to share a very friendly moment, and for most – especially for kids – a chance to learn and discover the names of fruits and vegetables, their seasonality, the respect for the environment and the fact that fruit and vegetables don't grow year-round on a supermarket shelf! During these collectings, an intergenerational mutual aid is developing naturally.
After paying a modest sum, the beneficiaries are happy to go home with the fruit and vegetables they have collected themselves!
As part of the cooking workshops, jam workshops are organized for the beneficiaries of this solidarity food store. Participants learn how to make jam in large cooking pots, sterilize the jars for storage, peel rhubarb and prepare an onion confit for example. The jam is then sold in the grocery store for a token fee.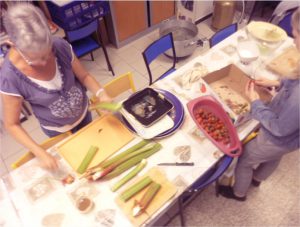 These kind of events permitted to some attendees to change certain of their eating habits, to learn to make canned food so they can eat fruit and vegetables year-round and to favored social and intergenerational ties.
This project was supported by the Louis Bonduelle Foundation during its winter 2017/2018 call for proposals.