Most European consumers say they are prepared to change their eating habits to help the environment, as long as 'sustainable' is also 'practical', according to a survey carried out by several consumer associations across Europe and published by the BEUC.
Food is the main source of environmental impacts related to household consumption in the European Union (EU), ahead of housing and mobility1. It is therefore a major lever for action for a more sustainable world. This can be achieved mainly by developing a more plant-based diet, which is also good for our health. But to what extent are European consumers ready to change their habits, and under which conditions? The European Consumer Organisation (Bureau européen des Unions de Consommateurs – BEUC) provides some answers in its report, based on surveys carried out by consumer associations among a panel of more than 11,000 citizens2.
Prepared to change, but obstacles remain
The survey on the transition towards a sustainable diet reveals that:
Most consumers are aware of the environmental impact of food in general, but tend to underestimate the impact of their own eating habits on the environment.
Two-thirds of consumers are open to changing their eating habits for environmental reasons, but so far only four out of ten have cut their consumption of red meat. Plant-based alternatives such as legumes or 'veggie burgers' seem to be the most acceptable alternatives, well ahead of insects or cultured meat.
Price, lack of knowledge, unclear information and a limited choice of sustainable products are the most cited obstacles to eating more sustainably.
Finally, the report also highlights the insufficient role of governments: only 16% feel their government is doing enough to promote either the production or the consumption of sustainable food.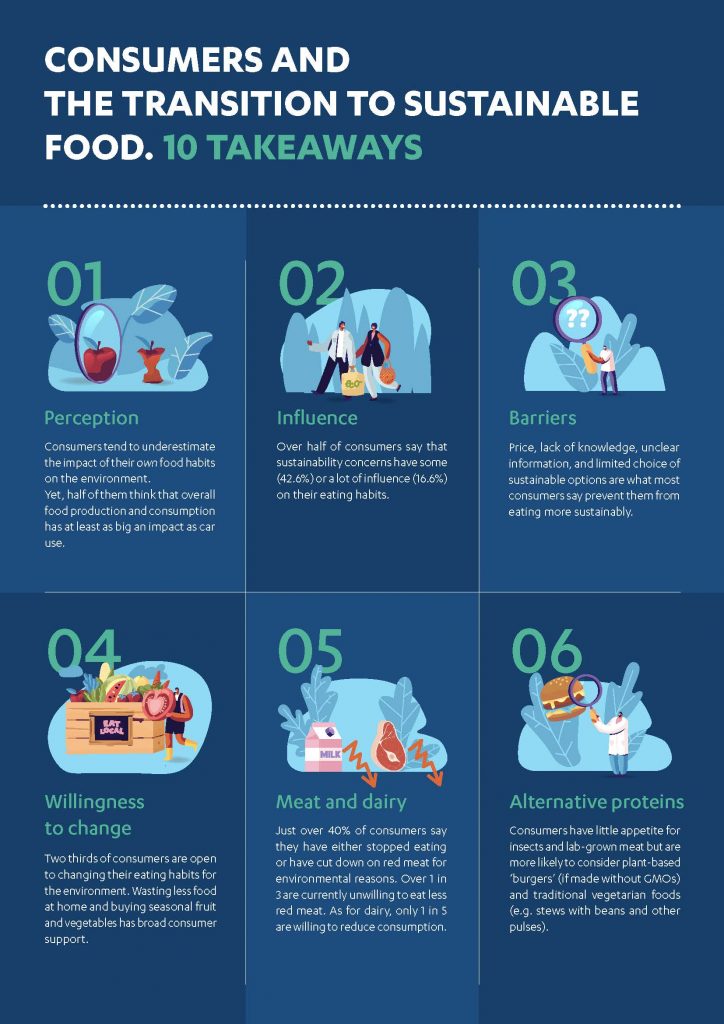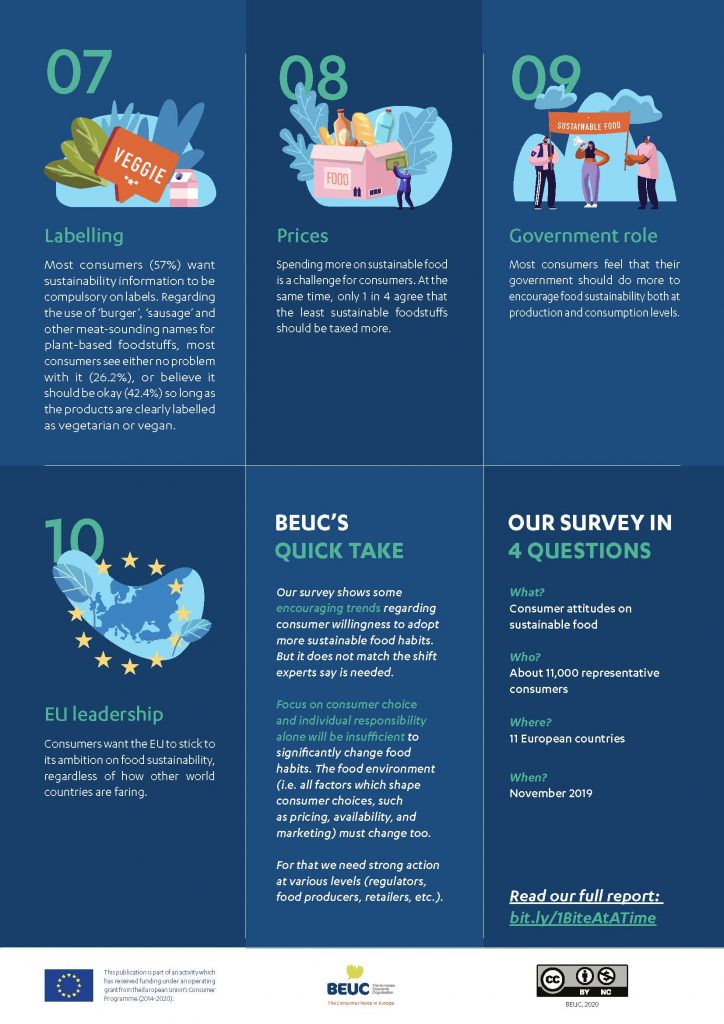 Coronavirus: more plant-based foods during lockdown
During the coronavirus lockdown, consumers seem to have bought more fruit and vegetables, and adopted healthier eating habits, according to a study carried out in 11 countries around the world, including Austria, Belgium, France, Greece, Ireland and the Netherlands3. "Consumption of salty, fat and sweet products usually goes up when people are under stress, but during the pandemic this heightened craving has been fulfilled in many countries with home-baked goods," said Charlotte De Backer who coordinated the study. It is difficult to know if these trends will continue, but these conclusions confirm those of the BEUC study carried out before the coronavirus crisis, which already highlighted the interest in adopting a more sustainable diet.
"From Farm to Fork": the European Union's sustainable strategy
In any case, the coronavirus crisis is leading to a reflection on food systems. It has prompted the European Commission to present its strategy for more sustainable and resilient food systems, entitled "From Farm to Fork"4. By 2030, this strategy aims to:
reduce by 50% the use of chemical pesticides.
reduce nutrient losses (nitrogen and phosphorus) by at least 50%, while ensuring no deterioration of soil fertility.
reduce by at least 50% the sales of antimicrobials for farmed animals and in aquaculture.
In 2020, the Louis Bonduelle Foundation is contributing to the funding of international projects that improve the positive impact of plant foods on the process to help people to adopt sustainable eating habits.
Download the full report here