More vegetables: 5 practical tips for children
The Louis Bonduelle Foundation provides the key to teaching your children to like vegetables with a series of pedagogical documents and tools, in particular, this completely new visual tool to download! Here is a preview.
Tip n°1: take your time
With any learning process, you need to go about it gradually with your children, and certainly not give up! That's the case for vegetables too. Some studies show that you may need to try a vegetable up to 8 times before a child gets used to it and accepts it. So, a zen attitude is called for.
Tip n°2: buy or pick them together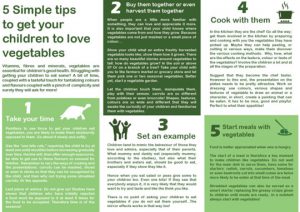 By taking more interest in vegetables, in the garden for example, we stimulate all 5 of our little ones' senses. The many and varied shapes and colours of the vegetables will arouse their curiosity, so they become more familiar with them.
Tip n°3: lead by example
Mirror, my beautiful mirror! It's no secret; children imitate what they see and especially their parents. Worth bearing in mind…
Tip n°4: cook together, it's good!
Something fun, something nice and something good, that's the recipe to use with your children. And involving them as early as possible in preparing meals in the kitchen means they get used to being around vegetables on a daily basis. Would-be chefs get your aprons on!
Last tip: start your meals with a vegetable
A tip for while you're waiting for the meal to be ready. Offer the children raw vegetables as a first course. Everything tastes better when you're hungry!
The Louis Bonduelle Foundation helps change attitudes by providing information and making vegetables a part of every family's daily life in a useful, realistic and original way.