A refreshing vegetable
Cucumber is without a doubt one of the vegetables with the highest water content (>95%), so summer is an ideal time to eat it because of its hydrating properties.
Cucumber also contains:
Vitamin B9
Potassium
Magnesium
Zeaxanthin and lutein, two antioxidants only found in certain vegetables that contribute to protecting tissues, particularly the eyes.
When is the right
time to eat it?
Year-round.
Cucumber is available throughout the year, but it is in season from April to October.
Vegetable patch
or urban balcony?
Cucumber is an herbaceous, procumbent annual plant that grows well in loose, deep, humus-rich, well-drained soil in a sunny position.
To learn everything you need to know about growing cucumber, read the page on growing advice.
Choosing the best cucumber:
It should be firm, hard at either end, with a smooth, green skin
Smaller cucumbers are tastier and contain fewer seeds
Storing cucumbers:
In the refrigerator: One week in the vegetable drawer. It should be wrapped if it has already been sliced.
Did you know? Cucumbers are always cold! Even in the sun, the internal temperature of a cucumber stays at 6 to 8 degrees lower than room temperature.
How to prepare cucumber:
Peel and chop into round or cubes. After washing thoroughly, you can play around with different shades of green on the skin and flesh by leaving strips of skin on when peeling.
The seeds are rich in nutrients and can be eaten, but those with sensitive digestion are better able to digest cucumber with the seeds removed (just use a tablespoon to gently scoop out the seeds after chopping lengthwise).
Don't add salt before cooking if you want it to stay crunchy and preserve its mineral content.
Cucumbers go well with:
Raw: cucumber is a base ingredient in salads, chilled summer soups, and sandwiches, and also goes well served in batons with dips as an aperitif.
It goes particularly well with yoghurt and mixed herbs. Greek tzatziki is the ideal result of this combination (yoghurt, mint, lemon juice). It pairs well with fish and poultry, shellfish, fruit (apples, raisins), tomatoes, chives, dill, curry, and all cheeses.
Cooked: a more unusual way of using cucumber! It should only be cooked for a very short time (20 to 30 seconds in the microwave, a few minutes for other cooking methods).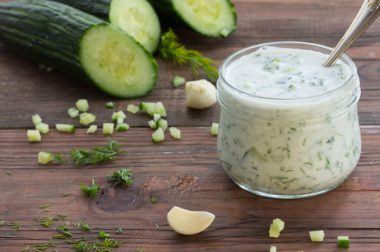 Young children
Cucumber can be eaten from the age of 12 months. Children usually like it at this age because of its fresh taste and because they can eat it with their hands! Cucumber is delicious served in slices, in batons, with cheese, with ham, etc.
And everyone else
Cucumber is a good snack. Reach for some cucumber when you've got cravings or need some energy.
See plenty of other tips for encouraging children to eat vegetables
Where do they come from?
Origins and varieties
Origins: China, Turkey, Iran, Russia, Ukraine, and the US are some of the biggest cucumber producers. Germans are biggest consumers of cucumbers.
Varieties: There are over 40 varieties of cucumber, many of which are named after the region they are produced in. English and European varieties are longer, while American varieties are smaller. Aside from the difference in shape, the color and skin texture also vary from green to white, and smooth to rough (even thorny) in the different varieties.
Other well-known varieties include Japanese, Kirby, Citron, and Gherkin cucumbers.
Did you know? Pickles are actually made from baby cucumbers that are marinated or used in marinades.