THE vegetable for mothers-to-be!
Green beans are low in calories and rich in fiber, perfect for promoting regular bowel movements (and for effectively assuaging constipation, one of the little difficulties of motherhood). However, above all, green beans are a source of vitamin B9, essential for fetal growth, especially during the first trimester of pregnancy.
Did you know?Green beans are extra thin, very thin, and thin at different stages of maturity. Their nutritional composition changes slightly during the maturation process. It is mainly the fiber content that increases over time.

Green beans are also:
a source of vitamin B5 (for cognitive performance, energy, vitamin D synthesis, and fatigue reduction)
a source of vitamin C (for the immune system, collagen formation, energy, the nervous system, iron absorption, and fatigue reduction)
They also contain:
iron
potassium
provitamin A (beta-carotene)
numerous antioxidants, such as zeaxanthin and lutein
When is the right
time to eat them?
From July to September.
Green beans are available canned year-round, but they are in season during the summer, from July to September.
Vegetable patch
or urban balcony?
Green beans are herbaceous annuals that grow well in light, slightly moist soil, in full sun.
To learn everything you need to know about growing green beans, read the page on growing advice.
Choosing and
storing green beans
Choose your green beans well:
They should be thin (thicker ones are stringier), long, and firm, without spots.
They should break easily if folded.
Their green, purple, or yellow color should be bright, depending on the variety.
Properly store your green beans:
In the refrigerator: Store for three to four days in the vegetable drawer. They are somewhat delicate and keep better wrapped in a moist cloth. Snap peas can be kept longer (one week).
In the freezer: First blanch them, then keep up to six months.
How to prepare green beans
Simply snap off the ends and string them! This simple gesture, which indeed does require a bit of patience, can be done by hand or with the point of a knife.
They can be eaten cooked, preferably until al dente when fresh, to preserve all their vitamins.
Cooking times:
10 to 15 min: in salted boiling water or steamed
5 min: sauteed in a wok or frying pan, after first being boiled
10 to 15 min: in the pressure cooker or microwave
Tip for preserving the green of green beans after cooking: Plunge them into an ice water bath after cooking. The thermal shock will set the chlorophyll, and the beans will preserve their beautiful green color.
Tip for preserving the color of purple beans: Blanch them for a few minutes, cooking them just until al dente. Otherwise, they will turn dark green.
Green beans go well with…
As an appetizer or side dish, green beans are easy to work with and well-liked by everyone.
They go well with parsley and grilled meats, tomatoes, a salad of cucumbers and mushrooms, zucchini and cabbage, potatoes (cold or hot), bacon morsels, smoked bacon, ham, gizzards, fish, veal stew, poultry, and more. They make delicious vegetable timbales and are wonderful with mayonnaise or an omelet.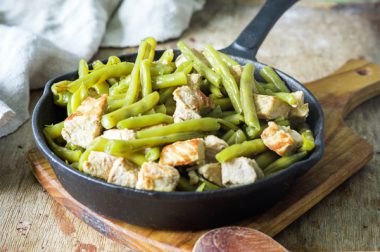 Young children
Green beans are one of the first foods given to children when they begin eating solid foods, around age 6 months. Green beans are first fed to children in puree form, then cut, with the strings carefully removed.
And everyone else…
Green beans are a favorite with everyone.
See plenty of other tips for encouraging children to eat vegetables
Where do they come from?
Origins and varieties
Origins: Fresh beans, whether green, purple, or yellow, are cultivated in the four corners of the world, from China, Japan, and Turkey to Romania, Italy, Egypt, Spain, France, and the United States. Green beans are a favorite vegetable in France. In Quebec, they are frequently known incorrectly as "green broad beans" or "yellow broad beans".
Varieties: There are over 100 kinds with different flavors, colors, and shapes. Several varieties are cultivated:
filet beans, with very long pods
yellow wax beans or butter beans, sweeter, and more delicate, a longtime favorite for Americans
yellow or green snap peas, flat and stringless, without a tough inner membrane. You can eat the whole pod! Since these beans don't have strings, there is no need to string them!