A sweet vegetable!
Parsnips are rich in energy-providing complex carbohydrates. On average, they contain twice as many as carrots. That explains why they are such a favorite, especially among young children.
A trove of fiber
Parsnips are high in fiber, another benefit of this vegetable which also distinguishes them from carrots, promotes regular bowel movements, and helps you feel full faster.
Parsnips are also:
a source of vitamin B9 (for cellular renewal, particularly important for pregnant women for fetal development, for growing children, and for convalescents).
a source of potassium (for the nervous system, muscular function, and blood pressure)
They also contain manganese
When is the right
time to eat them?
From fall through spring.
Parsnips are in season from September to March.
Vegetable patch or
urban balcony?
Parsnips are a biennial edible root that does not flower during the first year, instead "getting settled" in the soil. They flower in their second year. They grow well in rich, deep, fresh soil, in full sun.
Did you know? Parsnips are yellowish on the inside and become sweeter if there is a light frost before they are harvested.
To learn everything you need to know about growing parsnips, read the page on growing advice.
Choosing and
storing parsnips
Choose your parsnips well:
Choose the smaller ones, which are less fibrous and more flavorful.
They should be firm and should not have spots.
Properly store your parsnips:
In the refrigerator: one week in the vegetable drawer.
In the freezer: after cutting them into cubes
How to prepare parsnips
Parsnips are easy to work with—just peel them (though you do not even have to do so). Then simply sprinkle them with lemon juice, since contact with the air rapidly turns the flesh brown.
Cooking times:
10 min: in the pressure cooker or microwave
25 min: steamed
30 min: boiled
45 min: in the oven, in a gratin
Tip for infusing your boiled vegetables with a subtle flavor: Before cooking the vegetables, prepare a bundle of herbs and spices (thyme, rosemary, cloves, etc.) to add a pleasant flavor to your dish.
Parsnips go well with…
Whether raw or cooked, you can eat them whole, grated, cut into rounds, julienned, or finely shredded…just like carrots!
Raw: They are very good grated and mixed with carrots, ginger, honey, walnuts, peppers, or button mushrooms. Try out parsnip sticks for an appetizer instead of the more typical cucumber or mushrooms, especially in the winter. They also go well with all citrus fruits.
Cooked: They make an elegant accompaniment for smoked meats. They go well boiled in a potée with other vegetables such as cabbage, turnips, carrots, leeks, potatoes, and zucchini
In Galicia, parsnips are used in some regional specialties. The cooked stems and leaves are served with ham or pork shoulder or are added whole to vegetable broth. The stems are ingredients in a sauce served with lubina con navajas, a local dish made with sea bass and razor clams (a type of mollusk).
Finally, if you want a change from potatoes, parsnips can be made into delicious fries, just like sweet potatoes!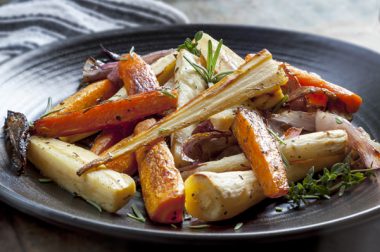 Young children
Because they are sweet and easy to digest, parsnips can be given to babies starting at six months, first in puree and soup form, then in small pieces or fries for older children.
And everyone else
Parsnips can be involved in cross-allergies for people who are allergic to certain fruits (walnuts, apples) or who suffer from hay fever. Ask for advice from a health professional.
Parsnips are rich in complex carbohydrates, fiber, and potassium, making it a great vegetable for athletes and active people concerned with their silhouette.
See plenty of other tips for encouraging children to eat vegetables
Where do they come from?
Origins and varieties
Origins: In Europe, parsnips are eaten especially in Great Britain and in the northeast of the continent. Parsnips play an important role in British cuisine. You can eat the stems and leaves of parsnips.
Varieties: There are several parsnip varieties: The half longs are rustic varieties:
The half long Guernsey is fairly stocky.
The Javelin has a slim, soft root.
The Lancer is tapered, smooth, and sweet.
The young leaves of the Turga can be eaten in salads or soups.