Small kernels of energy
Corn kernels may be small, but they pack a punch! Sweet corn is one of the vegetables richest in carbohydrates and therefore provides quite a lot of energy to those who eat it.
Did you know? Sweet corn contains zeaxanthin, an antioxidant whose name comes from the Latin name for corn: Zea mays!
Sweet corn is also:
a source of vitamin B9 (for cellular renewal, particularly important for pregnant women for fetal development, for growing children, and for convalescents).
a source of fiber (bowel movement regulation, satiety)
It also contains:
potassium
magnesium
manganese
vitamins B1, B3, and B5
Sweet corn is also a significant amount of antioxidants such as lutein and zeaxanthin
When is the right
time to eat it?
All year.
Sweet corn is available year-round if it is eaten from a can. As for corn on the cob, it is available in summer, from July to September.
Vegetable patch or
urban balcony?
Corn is an annual that grows well in full sun, in rich, cool, deep soil rich in humus.
To learn everything you need to know about growing sweet corn, read the page on growing advice.
Choosing and
storing sweet corn
Choose your sweet corn well:
Ears of corn should be purchased fresh and eaten as soon as possible. The leaves should be green and very smooth, and kernels should be rounded.
Properly store your sweet corn:
Canned sweet corn can be stored in the refrigerator for three days once the can has been opened.
Corn on the cob should be consumed immediately.
How to prepare sweet corn
Cooking sweet corn is easy as pie! Canned, it is ready for use. Ears of corn can be cooked in the oven in their leaves and corn on the cob can be boiled in water or grilled.
Sweet corn goes well with…
Canned, it is frequently eaten on salads, for example with tomatoes, lettuce, and cheese cubes. Now that is a nutritious and delicious combination to have as an appetizer or alongside a sandwich. But the possibilities are endless!
Corn on the cob is widely eaten grilled in the United States, where it is seasoned with nothing more than butter and salt. It is the main food served at the traditional Épluchette de Blé d'Inde (corn shucking) festival which takes place every year at the end of the summer in Quebec.
Try it out: pâté chinois. Mashed potatoes cover a layer of canned corn and lean ground beef in this classic, cheap, and nutritious French Canadian dish for the whole family, served with homemade ketchup and a green salad.
Did you know? To each his own! In France, Italy, and Spain, people most often eat sweet corn in composed salads. In North and South America, people prefer their corn on the cob, freshly boiled or grilled.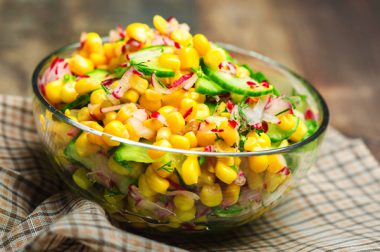 Young children
Children can start to eat sweet corn from the age of 15 months if it is pureed. They should not begin to eat it whole before the age of two. Corn, green peas, and ham make up a trio that older children love to eat. With bright colors and mild, almost sweet flavors, the trio has all the benefits of a balanced meal!
And everyone else
Corn is a cereal but does not contain gluten. People who are gluten-intolerant (with celiac disease) can eat it safely.
See plenty of other tips for encouraging children to eat vegetables
Where does it come from?
Origins and varieties
Origins: Sweet corn is grown throughout the world, at a latitude promoting its ideal climate, which encompasses southwestern France, southern Quebec, the northern United States, and Thailand. The United States is the top corn producer, followed by China, Brazil, Mexico, Argentina, and India.
Varieties: There are three varieties of sweet corn:
Sugar enhanced sweet corn (SE): main variety used for canning.
Sugary sweet corn (SU): little used.
Supersweet sweet corn (SH2), the sweetest kind.
What we often call "baby corn" is actually immature corn on the cob. It is delicious in salads and stir fries.