The Conserves soutenues par la communauté [Community-supported canning project], launched in Montreal, Quebec, in 2018, seeks to develop a short supply-chain production model for processed fruits and vegetables.
On Saturday, September 22, 2018, more than a dozen neighbours were busy participating in a tomato canning workshop at Resto Plateau. Their goal was to each make 15 litres of tomato sauce—enough for them to eat local organic tomatoes all through the winter.
Rekindle the art of canning
The tomato canning workshop is part of the Conserves soutenues par la communauté project. Founder Ariane Gagnon-Légaré says, "Food products are no longer tied to the seasons and have become disconnected from geography. We want to make local organic fruits and vegetables available all year round by canning them."
Ariane dreamed up the idea in December 2017. Not keen to go it alone, she decided to submit her project to Solon, an incubator to support citizen-led neighbourhood projects. Created in 2015 by a group of neighbours who wanted to transform their alleyway into a space for living and sharing, the Solon collective helps motivated citizens improve their communities. The team has one idea: to make communities more inclusive, friendly and prosperous, and low-carbon. Over time, Solon has developed skills and tools to help project leaders identify their needs with regard to mobilizing the community and implementing projects.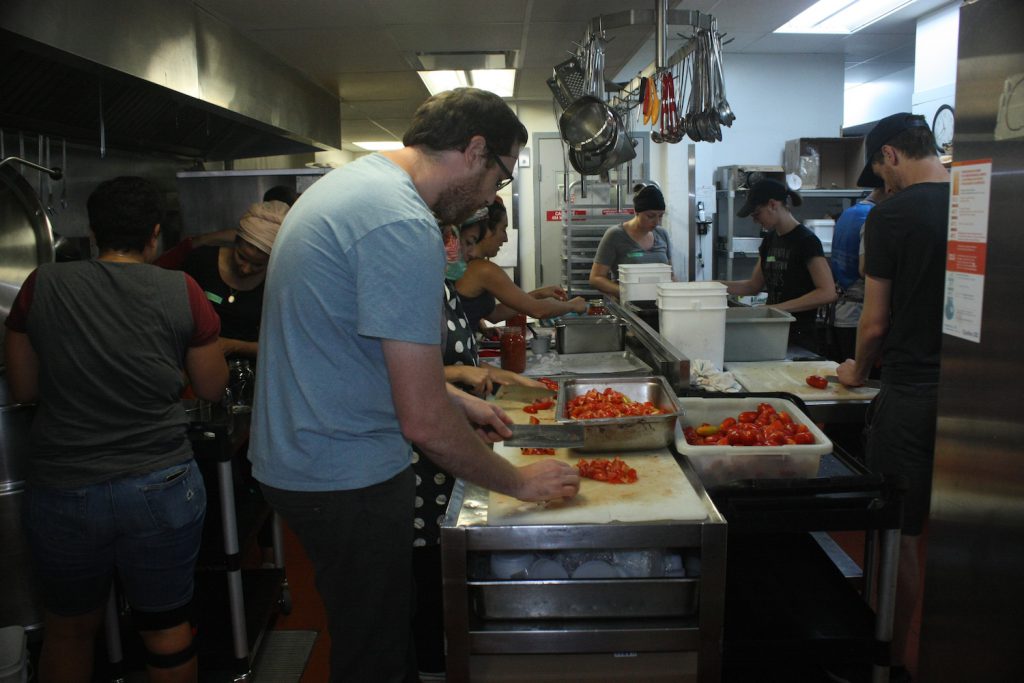 Focus on short supply chains
The vision of Conserves soutenues par la communauté goes well beyond simply canning produce. "We want to set up a short supply-chain network, connect farmers, food processing organizations and consumers, and create social ties," says Ariane.
In 2018, they brought together the first partners. "We wanted to use existing kitchens to reduce our environmental footprint and be closer to people in the neighbourhood." So, Ariane approached Traiteur Bis and Resto Plateau, two social and professional insertion enterprises specializing in food. They embraced the tomato-canning pilot workshops. The results of the first sessions are very encouraging: the participants liked the communal aspect, with everyone pitching in. Above all, they rekindled a preservation method our grandparents knew well, enabling the harvest to be enjoyed all year round.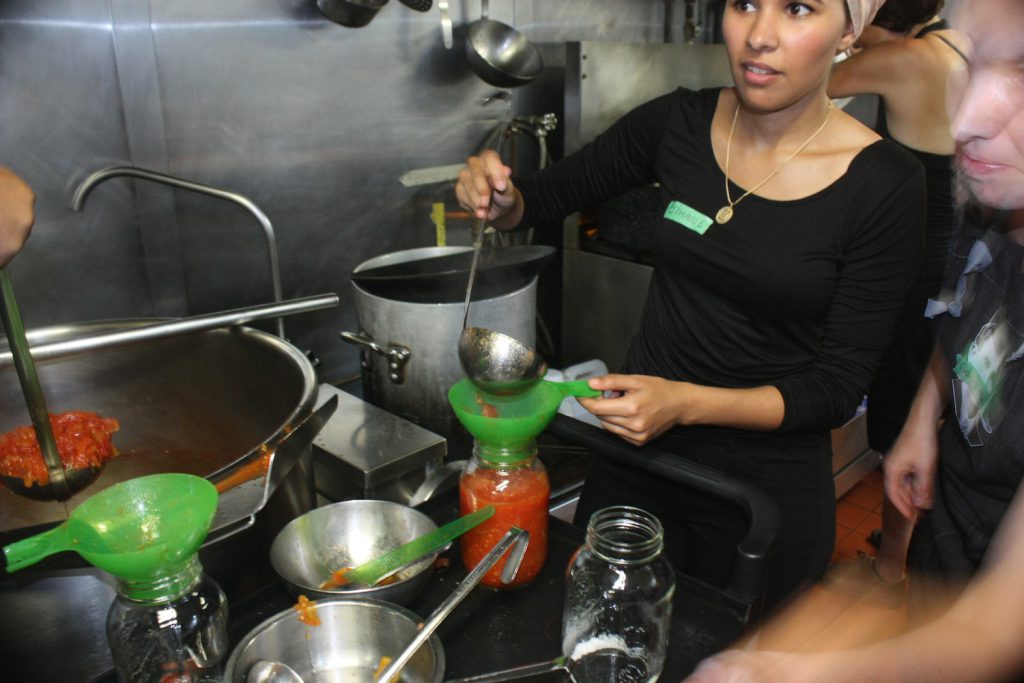 Canned produce subscriptions
The plan for 2019 is to expand the project. Ariane is focusing on creating a subscription model as much for supply as for processing and distribution. This approach will guarantee revenue for the farmers when production begins in the spring. A wider variety of canned fruits and vegetables will also be available. As well as tomatoes, there will be grilled peppers, eggplant-based preparations, beans, corn, and more.
The team is also planning to establish partnerships with farmers to recover surplus produce at the end of the season in an effort to fight food waste. Instead of being thrown away, this excess produce would be canned and sold in neighbourhood grocery stores.
Conserves soutenues par la communauté is a winner of the 100° call for proposals, "S'approvisionner autrement: fruits et légumes à l'année pour tous!" [Sourcing differently: Fruits and vegetables all year round for all!], conducted in partnership with the Louis Bonduelle Foundation.
100° is the reference for healthy living in Quebec.
Resources
Conserves soutenues par la communauté
Photo credit: Geneviève Bégin