The Louis Bonduelle Foundation Conference brought together a large panel of nutrition experts in Brussels to take stock of the role of plant-based foods in responding to current societal challenges. The fight against climate change, soil preservation, nutritional transition, increased balance in vegetarianism… here is everything you need to know from the 12th edition.
After 50 years of promoting the importance of fruit and vegetables on comsumers' plates, many countries are now embarking on a second nutritional transition. Faced with the challenge of global food sustainability, the response lies in a significant increase in the share of plant-based foods in overall diets.
The stakes are high: meeting the nutritional needs of an exponentially growing world population, slowing global warming, preserving soils and maintaining food quality, all while bringing about lasting changes in people's behaviour.
The Louis Bonduelle Foundation Conference offers an overview of this global evolution towards a diet that is increasingly rich in plant-based products.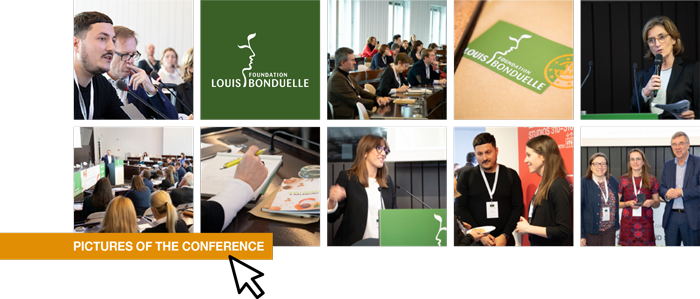 The 12th Louis Bonduelle Foundation Conference, chaired by Quebec nutritionist Catherine Lefebvre, was entitled 'Plants in food systems and sustainability: a balancing act'. Hosted exceptionally in Brussels, the Conference aimed to decipher the nutritional transition of food systems around the world towards plant-based foods. The Foundation's annual event was also the occasion to announce the winner of the Research Award, as well as the official launch of a new type of project in participatory research.
Feel free to share this report. We hope you will enjoy it.