A good way to get lazy bowels moving
Peas are rich in fiber, which is indispensable for regular bowel movement.
Peas are also:
a source of vitamin B9 (for cellular renewal, particularly important for pregnant women for fetal development, for growing children, and for convalescents).
a source of vitamin B1 (heart function, energy, nervous system)
a source of phosphorus (for energy, bone and teeth health, and cellular membrane health)
They also contain:
vitamin C
potassium
manganese
iron
antioxidants (lutein and zeaxanthin)
proteins (more than most other vegetables)
When is the right
time to eat them
Spring and summer.
Peas are available from April to July, but their high season runs over two months: May and June.
Vegetable patch or
urban balcony??
Peas are herbaceous annuals that grow well in rich, light and fairly humid soil, in full sun or half-shade.
To learn everything you need to know about growing peas, read the page on growing tips.
Choosing and
storing peas
Choose your peas well:
Fresh: the pod must be shiny, bright green, puffed and firm, with no yellow spots. The seed must be crunchy and slightly sweet.
Frozen or canned: take note of the use-by date on the packaging.
How to store your peas:
In the refrigerator: Two to three days at most in the vegetable drawer.
In the freezer: several months after blanching, if you bought them fresh.
How to prepare peas
Peas must be shelled. Easy as pie, but time-consuming! That's why we usually get them frozen or canned.
Cooking time:
1 minute: to blanch them, if they're fresh.
10 minutes: in a pressure cooker.
5 minutes: in the microwave, if they're frozen.
15 minutes: in boiling water, sautéed or in a wok.
0 minute! ready to eat from a can (slightly warmed up though!)
Peas go well with…
Raw: Utterly fresh, peas are delicious to crunch with a dash of oil and salt. Or in succulent spring salads with radishes, cucumbers and fresh goat cheese.
Cooked: Peas go particularly well with almost any type of culinary combination. They make a delicious soup with cream, go marvelously well with mash potato, are a tasty accompaniment for pasta, pork, smoked or grilled meats, rice, pigeon, poultry or fish. And of course, form a perfect pair with carrots! form a perfect pair with carrots!
A tip for keeping your peas bright green. Plunge peas into a bowl of ice water just after cooking them to fix the chlorophyll.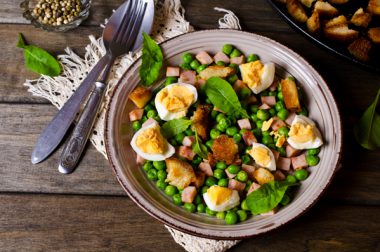 Where do they come from?
Origins and varieties
Origins: Most of the world's peas come from China and India. France (where they're very popular) is the biggest producer in Europe, followed by Spain and the United Kingdom.
Varieties: There are two main categories of shelled peas:
round peas
wrinkled peas (less sought-after)